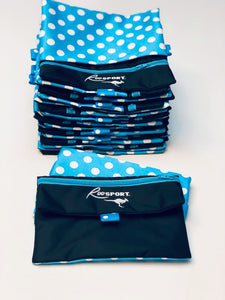 Theme Park RooSportPlus Blue
Regular price $33.99 Sale
*Made in USA*          Designed to hold All larger cellphones.  
Cellphone models the RooSportPlus fits:  iPhone 14/14 Pro/14 Pro Max  Samsung Galaxy Z Fold 2, Galaxy Note 22/Note 22 Ultra, Samsung Galaxy S22/S22 Plus/S22 Ultra, Google Pixel 5, Motorola g fast/edge. & LG V60 ThinQ. 
This RooSportPlus features fun colors, a concealed zipper pocket, and much more including:
* An easy access to small items pocket, on the flap!
* Entire pocket made from waterproof fabric.                                                                     * Runner?  Holds 5 Energy Gels, Sports Beans, Electrolytes, meds, and more                  * Type 1 Diabetic?  Comfortably carries Insulin Pump/Meters/Syringes                          * EpiPen User?  RooSportPlus will hold two EpiPen's inside the main open pocket or one EpiPen in the outside flap pocket.                                                                            *Travel?  Our Travel Wally is designed for you!  Passport fits inside concealed zipper pocket.                                                                                                                               * Add a RooSport Power Bank to carry in the outside front flap for long days carrying your cellphone at Theme Parks, travelling, or running. 
Machine Washable and Air Dry
Dimensions: 7.5 inches by 4.5 inches
Cellphones are not hurt by magnets.