Go Beltless! "Modern Day Fanny Pack"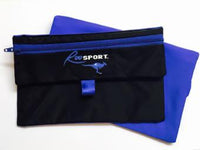 RooSportPlus
The newest RooSport is here, introducing the RooSport Plus! Now with a larger design that can handle ANY sized phone, and all of the features you would expect from our original version. The RooSport Plus is ready to run! 

Size: 7.5" x 4.5"
GET THE RooSport PLUS NOW!
RooSport
The RooSport introduces a variety of colors and new features to the RooSport family! Colors include blue, green, pink, orange, and black. Fits phones (including the iPhone 8 and GS6 with a slim case)!  Comes with a concealed zipper pocket! 

Size: 6" x 4"
GET THE ROOSPORT NOW!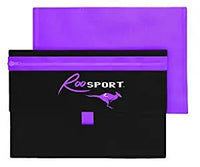 Testimonials
Roos are amazing
I bought my first Roo, the original, years ago at the Quad Cities Bix 7 expo. Loved it, so then bought the 2.0 and the plus. I've recommended them to all my running and gym friends...and they love them too. Just this past weekend I baggied up my inhaler and necessary items. Zipped in the inner and outer pockets and attached to the inside back of my capris. Did a 5 mile obstacle course race. In, over, under, up down and even in water. It never came loose. one of these days I'll get another Roo plus in orange... but for now, I just have to tell you that my pink one worked so phenomenally well!!! Keep doing what you're doing.

Manessa
Thank You So Much!!!! I purchased from you at the expo before the Philadelphia marathon which performed excellent!!! I first time Boston qualified under 6 minutes at my 8th marathon in 2 years of running:) Every marathon and most training runs I have used the Roosport to hold gels and it never disappoints!!! Perfect with the magnets in place!!! The size and water resistant protection are so comfortable for the waistband location!!! I will continue to use them for the 5ks, marathons, 50 and 100 milers I have coming up!!! Beautiful simplicity!!!

Ryan
For nurses! I actually bought this for a friend, I love mine. I have the big and the small one. We are nurses and it's good for nurses or instead of a purse at a sporting event. It's not just for runners :)